MVP Christina Tangalakis

MVP: Most Valuable Professional is an occasional series that features a brief Q&A with a different NASFAA member. Do you know a financial aid colleague with something interesting to say? Send the names of potential future MVPs and a short note about why you're nominating them to [email protected].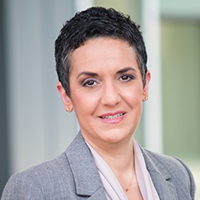 Christina Tangalakis
Associate Dean of Financial Aid
Glendale College
Meet Christina Tangalakis. While Christina originally foresaw herself as an English professor at a community college, she found her way to financial aid after a brief stint in the student employment office at Central Washington University (CWU). "Nineteen years later, I can't see myself doing anything else," she said of her career change to financial aid. After six years as a financial aid counselor at CWU, she moved back to her home region of Southern California to be assistant director of financial aid at Pepperdine University, and then on to the University of Southern California (USC) as senior assistant director of financial aid. After more than five years at USC, Christina landed in her current role as associate dean of student financial aid services at Glendale College, bringing part of her career vision to work at a community college full circle.

Christina has been very active and held several roles with both the Western Association of Student Financial Aid Administrators (WASFAA) and the California Association of Student Financial Aid Administrators (CASFAA). She also has a long history of participation and volunteer work with NASFAA as a member of several working groups, and was a member of NASFAA's inaugural Diversity Leadership Program. Currently Christina serves on the Certified Financial Aid Administrator® Program Commission, and is a commission director for the NASFAA Board of Directors, the State Advocacy Task Force, and the Examining Implicit Bias in Financial Aid Policies and Procedures task force. She received the Financial Aid Administrator Certified (FAAC®) designation after completing the program in May of 2019.
What made you decide to pursue a career in financial aid? And what do you find most rewarding about your work now?
I am energized by problems to solve and ever-changing regulations to implement. Of course, my main reason for pursuing a career in financial aid is because it is consistent with my belief in the transformational effects of higher education. I could talk forever on this topic.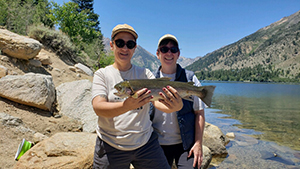 How have you experienced innovation in your career in financial aid?

The past two decades have brought great innovation to the financial aid offices — too much to list here. What interests me, though, is the relationship between the student and the financial aid office. I am always putting myself in the students' shoes to assess our operations. I am sensitive to overly complex processes. One of my professional goals is to reduce complexity for students and staff.

What is one thing you love about working at your school?

I am grateful for the trust and support of institutional leadership. I also love the community college sector, even though this is the hardest job I've ever had. I finally ended up in community college and I couldn't be happier.

Is there anything in particular about the financial aid system that you wish you could change?
I wish we, as a profession, could come closer to the ideal of equity. I wrestle with this concept daily. It is elusive, but also my singular professional goal.
What's one thing you couldn't live without?

My morning coffee. The first sip is my symbolic daily awakening; the moment my senses snap to attention and prepare to take on the day.
What motivates you to work hard?

I have to do work that I believe in. That's what motivates me. I truly believe in the power of education. Helping students improve their lives is simply inspiring. My father was a World War II veteran who aspired to be a car mechanic prior to his service to the country. With the help of government assistance via the GI Bill, and with encouragement from a favored professor, my dad graduated from law school in 1950. The entire course of his life, and two generations hence, have benefitted immeasurably from this singular opportunity. We have the power to help students change the course of their personal history and that of future generations.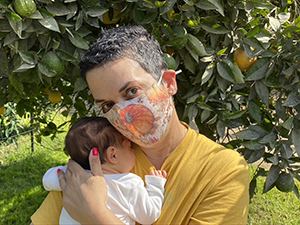 What's the best thing that has happened to you recently?

Hands down, becoming a grandmother in 2020 was and remains the best thing to happen to me in a long time.

If you could choose to do anything for a day, what would it be?

After a nap, I'd spend time in nature. Or I'd magically transform into a rock star, or binge-watch true crime shows, depending on my mood.

What is a goal you've set for yourself for the upcoming year?
I love this question because I am a big-time goal setter. On a personal level, I will continue to enjoy time outdoors with my partner, and learning how to be a grandmother to Eleanor and a mother to three adult daughters. Professionally, I want to make more of an impact in the financial aid profession in the area of equity and diversity.
Is there any message you have that you'd like to share with your colleagues and the financial aid community during these uncertain times?

Avoid cynicism. I was given this advice about 20 years ago by our institution's vice president at the time, and it has stuck with me all these years. This advice has resonated with me and I hope it has the same effect for someone else.
Want to say hello to Christina or reply to something she said? Please leave your remarks in the comments section below. You can also take a look back at our past MVPs to read any you missed the first time around.
----
Do you know a financial aid colleague with something interesting to say? Send the names of potential future MVPs and a short note about why you're nominating them to [email protected].
Publication Date: 1/21/2021
---