NASFAA Members Advocate for Improvements to the Student Loan System and Pell Grant Investments on Capitol Hill
By NASFAA Policy & Federal Relations Staff
As part of April's Advocacy Pipeline, NASFAA hosted three members for in-person meetings on Capitol Hill. The participants — Tara Verrico from Geneva College, Jessica Flogaites, FAAC® from University of Pittsburgh, and Mark Messingschlager, FAAC® from Thomas More University — spoke to congressional staffers from Pennsylvania and Kentucky.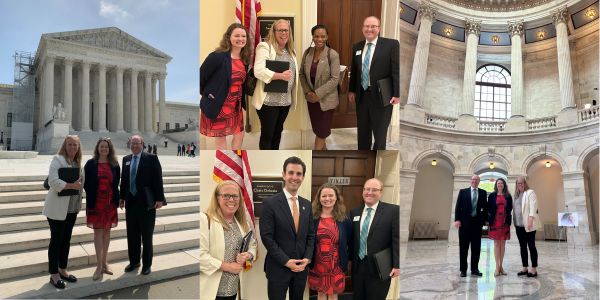 The three members visited the offices of Senate Minority Leader Mitch McConnell (R-Ky.), Reps. Chris Deluzio (D-Pa.) and Summer Lee (D-Pa.), as well as Sen. Bob Casey (D-Pa). They advocated for the elimination of student loan origination fees, doubling the maximum Pell Grant, reinstating the Pell Grant's automatic inflation adjustment, shifting the Pell Grant program to full mandatory funding, extending Pell Grant eligibility to Deferred Action for Childhood Arrivals (DACA) students, and simplifying student loan repayment.
We asked the three Advocacy Pipeline participants to share their thoughts and key takeaways from their time advocating for their students on Capitol Hill. Read on to learn about their experiences, and fill out this interest form if you would like to participate in an Advocacy Pipeline event.
Tara Verrico - Director of Student Financial Services at Geneva College:
The entire experience far exceeded my expectations. I went into the experience hesitant of how my voice and expertise could help move the needle on important issues for students, and nervous I would not be able to communicate with tangible examples, but the engagement from the congressional staffers made me feel very encouraged of how important it is for our community to speak up.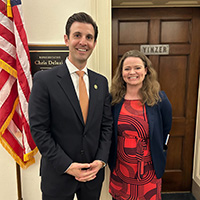 In the political world, it's easy to assume an impression that Congress members and staffers are super serious or unwilling to engage. I experienced quite the opposite and was surprised at how inviting, friendly, and fun every interaction was during our day. It made me feel as though our advocacy could very well have an impact on future legislation. Our meetings were specifically targeted to discuss removing loan origination fees, doubling Pell Grant efforts, and enhancing loan repayment plans. It was great to have examples from our institutions and our firsthand experience on these issues. It was interesting to observe what the staffers knew and did not know about these topics and encouraging to hear their follow-up questions.
I would recommend this experience to anyone in the future. My tip would be to have fun! It's as much of a learning experience for you and gives you an opportunity to utilize NASFAA's tools to research an issue that you believe is important for you and your students. Overall, I felt very empowered to continue to advocate for students even away from home. Our voice and our work matters, and it's clear Congress needs our help to understand the ins and outs of financial aid. A simple letter or organizing a student group effort to highlight our voices can be tiny ways that create large waves to make an impact. There are so many things to be done to help continue movement from the conversations we had on the Hill, and I look forward to seeing this in years to come.
Mark Messingschlager - Director of Financial Aid at Thomas More University:
Advocacy is such an important component of our work in higher education. We work with students and families daily and we see the transformative benefits of federal aid programs. We also see the gaps and roadblocks facing our next generations, while muddling through the mundane issues. This is why we can be so effective in advocating policy changes.
Sometimes Congress has a good vision, but doesn't understand what is necessary to complete the goal. Visiting with congressional staffers helps to forge that connection between practitioners and politicians.
In our recent Hill visits, we covered the topics of loan origination fee elimination, doubling the Pell Grant, student loan repayment simplification, and the removal of the housing question on the new FAFSA. It was particularly interesting watching the reaction of the staffers as they realized that they too had loan origination fees taken out of their loans. It made a really solid point about loan origination fees being the "hidden tax" on student loans.
It was great advocating alongside knowledgeable and professional colleagues.
Jessica Flogaites - Associate Director of Financial Aid at the University of Pittsburgh
Being a part of the Advocacy Pipeline was a watershed moment for me, and I am not sure the day could have been any better! This was my first time ever meeting with congressional staff, and as someone who is not overly involved in politics, I was quite nervous to attend. But once I framed the meetings as simply advocating for financial aid topics that I am passionate about, I felt much more confident.
NASFAA took our input on topics we wanted to discuss, and then provided us with a plethora of resources that we could use in our discussion with the various offices, which really helped me feel totally prepared!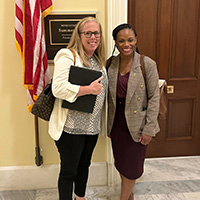 My favorite part of the visit was feeling like we were making a meaningful difference in our profession. Getting to speak with congressional staff about topics that impact our schools and students was exhilarating. To see their surprise over these topics — especially loan origination fees — was exciting and, again, made it feel like we were making a difference.
The other exciting part (which, if I am being honest, was really the most exciting!) was getting to meet two of the representatives from Pennsylvania! Getting to meet our own representatives was definitely a highlight.
Overall, this experience with the Advocacy Pipeline was better than I could have imagined. I now have the confidence to participate in Hill visits through the NASFAA Leadership & Legislative Conference & Expo, or just on my own as a private citizen. My advice for anyone who is thinking of participating in the Advocacy Pipeline is to just do it!
Publication Date: 6/1/2023
---