NASFAA Members Reflect on Opening 2023-24 Advocacy Pipeline Meetings
By NASFAA Policy & Federal Relations Staff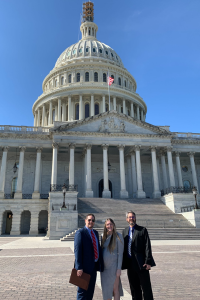 Last month, to formally kick off the 2023-24 Advocacy Pipeline, NASFAA hosted three members in Washington, D.C. for meetings on Capitol Hill. The participants — Charles Harper from Belmont University, Kayli Sampson from Iowa State University, and Matt Falduto, FAAC® from Kirkwood Community College — spoke to congressional staffers from Iowa and Tennessee.
The congressional offices included Reps. Mark Green (R-Tenn), Randy Feenstra (R-Iowa), and Ashley Hinson (R-Iowa), as well as Sens. Marsha Blackburn (R-Tenn) and Joni Ernst (R-Iowa). NASFAA members advocated for the elimination of student loan origination fees and improvements to the Pell Grant program, such as doubling the maximum Pell Grant, reinstating the Pell Grant's automatic inflation adjustment, and shifting the Pell Grant program to full mandatory funding. They also discussed responsible borrowing, and providing financial aid administrators the authority to limit borrowing and require annual counseling. Pipeline participants referenced the Responsible Borrowing Act of 2023, a bill introduced by Rep. Glenn Grothman (R-Wisc.) and endorsed by NASFAA.
We asked several Advocacy Pipeline participants to share their thoughts and key takeaways from their time on Capitol Hill. Read on to learn about their experiences, and fill out this interest form if you would like to participate in an Advocacy Pipeline event.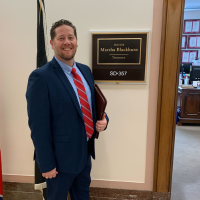 Charles Harper, Director of Student Financial Services, Belmont University:
I have participated in Hill visits a couple of times over the past six years. Each time, I have enjoyed having the opportunity to meet with congressional staff and discuss the obstacles that are impacting students, college affordability, and the role that financial aid administrators play in the overall support and administration of financial aid in higher education. Continuous advocacy from experts in the profession is important. The NASFAA Advocacy Pipeline offers members the opportunity to feel heard and valued while discussing issues that we feel strongly about.
The entire day was well organized and executed. Overall, the staffers we spoke with were open to conversations concerning all of the topics and issues that were expressed by myself and my colleagues. Participating in the NASFAA Advocacy Pipeline helped with my professional growth as a financial aid professional. It reinforced my desire to continue advocating for all students in the United States and our financial aid colleagues.
Kayli Sampson, Financial Aid Advisor, Iowa State University:
Participating in the NASFAA Advocacy Pipeline and having the opportunity to speak with congressional staff was a truly gratifying experience that provided me with invaluable insights and a sense of purpose of why we as financial aid professionals do what we do.
Meeting with the staff of elected representatives emphasized the impact of our advocacy efforts, and it served as a reminder that we play a vital role in shaping policies that affect the lives of our students.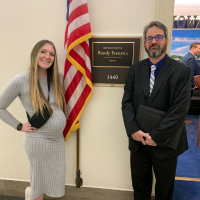 I am grateful I was able to participate in the NASFAA Advocacy Pipeline. It reinforced my dedication to the financial aid profession while also highlighting the importance of collaboration within our profession and the broader educational community. Together, we can create positive change by advocating for our students and shedding light on the impact financial aid professionals have when helping students achieve their dreams.
Matt Falduto, FAAC®, Senior Director of Financial Aid, Kirkwood Community College:
NASFAA's Advocacy Pipeline was a rewarding experience. It was very empowering to advocate on behalf of our students and for improvements to the financial aid system. We are a representative democracy and NASFAA provides an opportunity for us to advocate to our representatives. I think sometimes we forget how precious our democracy is. We need events like this to keep in the forefront of our minds the power of the people to make a difference in our country.
I would strongly encourage everyone to participate in the Advocacy Pipeline. NASFAA staff took care of all of the arrangements and made it a fun and illuminating experience!
Publication Date: 11/14/2023
---