Learning Objectives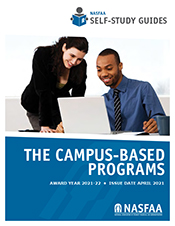 Lesson 1: Campus-Based Common Provisions
Differentiate between the campus-based programs; and
Identify provisions common to each campus-based program.
Lesson 2: The FSEOG Program
Understand the program-specific requirements of the FSEOG Program.
Lesson 3: Federal Work-Study
Learn the basic requirements of the FWS Program
Understand the conditions of FWS employment and payments to students; and
Become familiar with FWS community service requirements.
Lesson 4: The Federal Perkins Loan Program
Have a basic understanding of the Federal Perkins Loan Program, including counseling requirements and repayment features.