Learning Objectives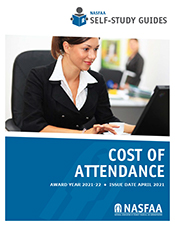 Lesson 1: Student Budget Construction
Understand the principles and processes of student budget construction.
Lesson 2: Cost of Attendance Components and Restrictions
Concepts of cost of attendance (COA);
Allowable costs for awarding federal student financial aid; and
Restrictions on COA components.
Lesson 3: Recalculations and Non-Title IV Aid
Understand the cost of attendance recalculation requirements and options.
Be able to detail how non-Title IV aid impacts the cost of attendance.