Learning Objectives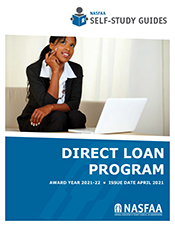 Lesson 1: Introduction to Direct Loans
Identify the different loan programs and characteristics of each;
Understand the purpose of origination fees;
Understand the loan application process; and
Understand how financial aid administrators may utilize professional judgment in the Direct Loan application process.
Lesson 2: Factors for Calculating Loan Amounts
Identify the factors in calculating loan amounts;
Understand how the loan period is identified in standard, nonstandard, and nonterm programs; and
Understand the role of the expected family contribution and estimated financial assistance in the calculation of loan amounts.
Lesson 3: Direct Loan Amounts and Limits
Know the annual and aggregate Direct Loan limits and how they are applied to the various student and parent borrowers;
Understand student enrollment patterns and the rules regarding the frequency with which students may borrow annual loan limits for Direct Loans; and
Understand the rules for Direct Loan proration and when they are applied.
Lesson 4: Calculating Direct Loan Eligibility
Know how to calculate a student's or parent's Direct Loan eligibility;
Understand the frequency of annual borrowing limits; and
Know how to prorate a student's loan eligibility.
Lesson 5: Loan Counseling
Understand when loan counseling is required;
Identify who must complete entrance and exit counseling;
Identify the various counseling formats and documentation requirements; and
Understand the required content of loan counseling and its purpose.
Lesson 6: Direct Loan & FFEL Repayment Features
Identify and understand the major repayment features of Direct and FFEL loans.
Lesson 7: Direct Loan & FFEL Repayment Plans
Know which repayment plans are available to borrowers under the Direct Loan and FFEL programs;
Understand borrower choice and restrictions among available repayment plans;
Understand the monthly payment amounts, repayment term lengths, and special conditions associated with each of the repayment plans; and
Know that repayment plan counseling tools and calculators are available to borrowers and where to find them.