The Lifetime Achievement Award (formerly known as the Lifetime Membership Award) is the highest award that NASFAA can bestow on one of its members or an individual who is affiliated with a member organization. To be eligible to receive this award, the individual must first be employed or have been employed by a member institution, be an associate member, or be employed by an associate member organization.
This award is the highest that NASFAA can bestow on a member; therefore, the achievements and contributions of the individual must truly be outstanding and significant. Normally, the individual will have made these contributions and achievements over a sustained period of time. This award is not typically made for a one-time achievement or effort, but for work over a sustained period of time for the Association and the profession in important capacities, and contributing significantly to NASFAA's success in meeting its goals.
The NASFAA Awards Nomination process is now closed. Winners will be announced this summer at the NASFAA National Conference.
2017 Lifetime Achievement Award Winners
George Chin (posthumously), former university director of student financial assistance for the City University of New York and former senior federal policy consultant at the American Association of State Colleges and Universities.
Chin's professional association activities included service as president of NYSFAAA, president of EASFAA, and 2004-2005 NASFAA national chair. He served on the Board of Trustees for the New York State Higher Education Services Corporation. Through his many contributions and volunteer hours, he was perhaps best known at the national level for his firm grasp of both the theory and practice of student financial aid. Chin passed away in February 2017; NASFAA is deeply grateful for the impact he had on the financial aid community.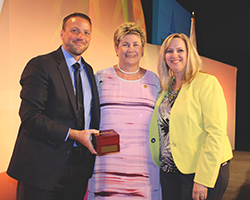 Dr. Laurie Wolf (retired), former executive dean of student services for the Des Moines Area Community College (DMACC).
Wolf spent her career promoting and advancing access and choice to higher education and has been an effective voice for community college students and their issues, as well as underserved populations. Over the years, Wolf has been actively involved at the state, regional, and national levels, and served as the 2010-2011 NASFAA national chair. She has been a leader in NASFAA's reauthorization and legislative efforts, but is perhaps best known as a student advocate. Throughout her career, and specifically at DMACC, Wolf was a prominent voice for underserved populations, particularly for "DREAMers."