The Robert P. Huff Golden Quill Award may be presented each year to an individual or individuals chosen for their contributions to the literature on student financial aid.
The award is named in honor of Bob Huff, former director of financial aid at Stanford University and himself an outstanding contributor to the scholarly literature on student aid. Bob received the first Golden Quill Award in 1984.
Nominees for the award are judged on the basis of published work which exemplifies the highest quality of research methodology, analysis, or topical writing on the subject of student financial aid or its administration.
The awards nomination process is now closed. The 2023 award winners will be announced this summer at the NASFAA National Conference.
2022 Robert P. Huff Golden Quill Award Winner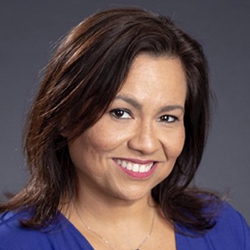 Dr. Stella Flores, The University of Texas at Austin
Co-contributors: Mamie Voight, President & CEO at Institute for Higher Education Policy, and Amanda Janice Roberson, Directory of Research and Policy, Institute for Higher Education Policy
"Opening The Promise: The Five Principles of Equitable Policymaking" is a report that sets forth an actionable framework informed by insights from more than two dozen experts across the field of higher education. The framework's five interrelated principles are designed to inform every aspect of the policymaking process, from the creation of new policy and amending of existing policy, to determining priorities and setting the course of action for a policymaking body. Written using the shared expertise of 23 individuals who have worked in government relations and federal policymaking at various postsecondary education focused think tanks and associations, the report puts forth five principles and accompanying action items. This report will inform federal policy making for many years to come.