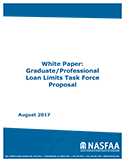 Graduate and Professional (G/P) students make up a relatively small proportion of the total student population yet they hold a disproportionate share of outstanding student loan debt. Much of the focus of the federal student aid programs, as reflected in policy, FSA resources, media attention and public opinion, skews primarily toward undergraduate students. With a reauthorization of the Higher Education Act looming, NASFAA convened the Graduate and Professional Loan Limits Task Force to develop recommendations that would ensure that G/P students' needs are adequately considered in upcoming legislation.
There has been no increase to G/P Direct Loan annual limits since 2007 and no aggregate limit increase since 2004 (2008 for medical students only), and the loss of Direct Loan subsidies in 2012 and the setting of a higher interest rate on Direct Unsubsidized loans for G/P students since 2013 have eroded affordable borrowing options for G/P students. The elimination of Perkins loans for G/P students in 2016 leaves one less affordable borrowing option on the table for G/P students and leaves them increasingly reliant on higher-cost Graduate PLUS and private student loans for financing their studies. Suggestions to eliminate the Graduate PLUS, making private loans the only option, would bar entry to graduate or professional study for many students, especially those planning to enter lower-paying fields that are of great value to our society and our economy.
Recommendations
The task force developed the following recommendations for the treatment of graduate and professional students in reauthorization:
Maintain the availability of federal loans for G/P students;
Increase annual G/P loan limits based on inflation;
Increase aggregate G/P loan limits based on inflation;
Adopt a one-loan scenario for G/P students, eliminating the Graduate PLUS loan;
Implement a two-tiered G/P loan with a set base amount plus an additional underwritten portion available up to the full cost of attendance;
Continue higher aggregate limits for existing eligible health professions programs; and
Support financial aid administrators' authority to limit annual and/or aggregate borrowing limits for certain classifications of students and programs.
This white paper is intended to be a discussion draft to stimulate conversation and debate about the structure of federal loan limits for graduate and professional students. Please share your feedback by emailing [email protected].