University of Pittsburgh Creates "Forward"-Thinking Financial Aid Program
By Joelle Fredman, NASFAA Staff Reporter
Students in Pennsylvania accumulated an average of $36,193 in loan debt per borrower in 2017, which was the highest amount recorded across all 50 states. One university, however, is looking to make a dent in that burden for its students—beginning with 150 seniors graduating this spring.
Those students comprise the inaugural class of the University of Pittsburgh's "Panther's Forward" program, an initiative announced in fall 2018 to help reduce students' federal loan debt through gifts of up to $5,000. Students were eligible for the program if they took out federal subsidized or unsubsidized loans to fund their senior year, and were selected based on a series of application questions, including an essay. The university will replace up to $5,000 of a selected student's federal loan with the Panthers Forward award after they graduate in April, said Randy McCready, the executive director of financial aid at the University of Pittsburgh.
While the first of year of the program is fully supported by University of Pittsburgh Chancellor Patrick Gallagher's discretionary funds, the idea is that program recipients will contribute back to the program in monthly increments after graduation, though this aspect is voluntary. According to the program website, while recipients sign a "pledge" as part of the application process for the program, it is a "non-contractual promise to contribute both money and time in a manner that helps sustain the program and offers equivalent opportunities to future participants."
"There will be some investment on the part of the university, but our goal is for the program to eventually become self-sustaining," program manager Anna Adams-Sarthou said.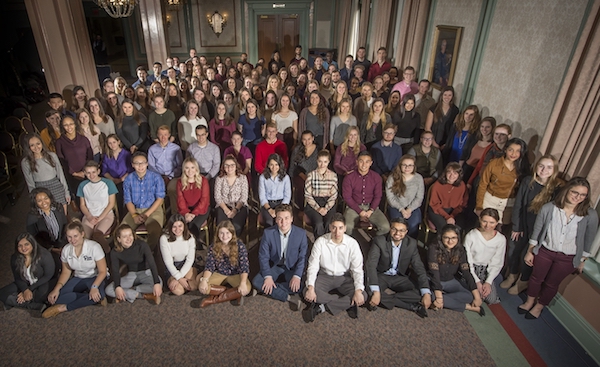 But it doesn't stop there. The selected students not only receive money toward their loans, but the program also provides them the opportunity to be mentored by a group of alumni in terms of the next steps they could take after graduation.
"We wanted to make them feel like they had an extra-elevated experience at Pitt in order to inspire them to want to give to the program," Adams-Sarthou said, adding that she has already been contacted by more alumni in recent weeks looking to serve as mentors for the next group of selected students.
McCready said that when these student begin their careers, he hopes they see the value of having had mentors through the program and will be inspired to give back to the university by mentoring others or by financially contributing to the program. He explained that procuring contributions from young alumni "has been a difficult area to grow," and that he hopes this will create "a culture of giving."
Like every new program, Panthers Forward has introduced new work and challenges for the university, but Adams-Sarthou said that the most important factor in how successful the program has been, and will continue to be, is smooth interdepartmental communication and the shared desire to help students.
"The most important component is the will— and the university has the will," she said.
While for the program's pilot year university officials decided to focus on helping students solely with their federal loans, Adams-Sarthou said the university is looking to expand into private debt as well, once some data on the program can be collected.
"The worst that can be done is that we've helped students," McCready said. "It'll be fun to look 10 years from now to see how this thing plays out."
(Photo: inaugural Panthers Forward class/Aimee Obidzinski, University of Pittsburgh)
Publication Date: 2/6/2019
---