MVP Alex DeLonis, FAAC®

MVP: Most Valuable Professional is an occasional series that features a brief Q&A with a different NASFAA member. Do you know a financial aid colleague with something interesting to say? Send the names of potential future MVPs and a short note about why you're nominating them to [email protected].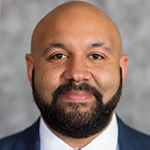 MVP Alex DeLonis, FAAC®
Director of Financial Aid Executive Director of Financial Aid
Wabash College


Meet Alex DeLonis, FAAC® director of financial aid at Wabash College in Indiana. As a first-generation college student, Alex got his start in the financial aid office through a Federal Work-Study position.
Alex recently joined NASFAA's "Off the Cuff" team where he discussed his personal experiences in higher education and how he began his career at Harper College.
"I got my first full-time financial aid job just at the age of 21, so literally, right after my Federal Work-Study job, it led to my first full-time job in financial aid," Alex said. "It's been just over 15 years in financial aid now, which is crazy to think about. I have gotten to see the profession from different institution types, different states, which has been eye-opening just to see how different institution types handle aid programs and in policies and procedures."
Alex was a member of the 2020-21 class for NASFAA's Diversity Leadership Program (DLP), and has been active in his volunteer work, participating in the Advocacy Pipeline, the FAFSA Simplification Implementation working group, and as vice chair of NASFAA's Financial Affairs Committee.
Learn more about Alex, his interests, and his career path in the Q&A below!
What have been some of the biggest changes you've noticed in the profession since beginning your career?
I'd say technology has definitely changed within our offices to serve students. Becoming more efficient and becoming paperless has been a big change. When I started, some days all I would do is file! I'd come in and file for eight hours over the summer when I didn't have classes. Now I don't touch a piece of paper unless I prefer to. In my office today everything is done electronically, from document review to packaging.
We're about to see the most significant changes we've probably seen with FAFSA simplification coming up here soon, but we've had prior-prior year (PPY) and the shift from the January 1 FAFSA to the October 1 FAFSA, the change to direct lending. But really, I guess what is nice is that the core has stayed relatively the same.
Could you tell us a little bit about your institution and your current role?
Wabash is one of three all men's four-year non-religious private colleges still left in the country today. We are located in Crawfordsville, Indiana, and are a small liberal arts institution.
When I think about Wabash, I immediately just think about how supportive the community and the alumni are. The alumni are absolute fanatics and support the institution in any way possible. It's nice to see that students have such a great experience that they want to turn around and support the school throughout their lives after they're here for four years. We do like to say that here at Wabash, you're not choosing Wabash for four years, you're choosing Wabash for a lifetime, which is great.
In my position as director of financial aid, I've been here for just over four years. The financial aid team is in one larger office with the enrollment team, which includes the admission staff. So we get to support admissions along the recruitment cycle, but we also continue supporting currently enrolled students to get them through graduation.
​​What do you find the most rewarding and fulfilling about your work?
I'd say it's facilitating access to education. For me, as a first-generation college student and Pell Grant recipient, without Title IV aid, without the generosity from donors and a supportive aid office, to put that all together and support me and communicate that information to me, I definitely wouldn't be living the life that I am today and wouldn't be in a position to continue supporting students in that way.
For me to go from being a recipient of the funds to doing Capitol Hill visits and advocating for ways to improve and expand aid programs, like doubling the Pell Grant or eliminating origination fees, just things to support students and provide that access to education definitely brings it full circle for me. Being a recipient and then being on the advocacy end and just doing the work daily, it definitely keeps you going and keeps me motivated.
If you could change one thing about financial aid, what would it be?
I envision a dream world where lawmakers and the Department of Education work better together to ultimately support students. It's important to have aid administrators and other folks who are invested have a seat at the table more often, and be able to influence those conversations, and to get the support we need, especially since we're being held accountable based on the decisions that are being made.
We're living it right now with the FAFSA simplification changes along the way. I think that the roll-out could have been significantly different had all of those relationships, in an ideal world, been a little bit better.
What's something you wish all higher ed folks knew about financial aid?
Just the knowledge it takes to do what we do. I wish I could print out a financial aid handbook and hand it to folks outside of the office to kind of truly understand everything that we have to know. Being in compliance is an institutional responsibility that stretches well beyond what the financial aid office can do on its own.
Aside from that, just the risk that we hold. There are things that we do that are very intricate and high-level that if we're not properly developed and up to date, could have major implications for our students and our institutions.
Do you have any recommendations for people just getting started in the field?
I was fortunate enough to go to my state and regional summer institutes and leadership symposiums, and that is a great way to start building your knowledge base, building your network and start really diving into the profession as a whole.
There are also states and regions that offer scholarships to the annual conference, if you've not been. I know both Illinois and Indiana did and I received the one for ILASFAA, the Illinois Association, and MASFAA, the regional association. Those really springboarded me into my involvement within association work.
I would also recommend just being on the lookout for other opportunities. I was a member of NASFAA's Diversity Leadership Program, and other states and regions offer great programs. It all starts with getting support from your supervisor to be able to do those things and explaining why those things are important to your development.
What's something you couldn't function without?
I really have an amazing financial aid team here at Wabash that makes me look better than I probably should. They're dedicated, they are passionate, and they really care for our students and they support one another through anything — through a pandemic, through ongoing changes that seem like they'll never end. They do a great job of supporting each other and supporting the institution and our students. I wouldn't be able to do any of the things that I do without that supportive team. That's definitely the best thing about being here, and I definitely couldn't live without it.
What's on your bucket list, or any upcoming travel plans?
This probably sounds terrible, but not really. Catching up on sleep these days is rough for me. I have a one-year-old and a three-year-old at home so anytime my Apple Watch tells me I hit my sleep goal, that's a victory, for sure.
I'm also looking forward to running the 5K in San Diego with my NASFAA friends. So I've been training for that, and that's been a great way to stay motivated on some health goals.
What's helped you the most in getting through the past year?
I'd say just my supportive colleagues and network, whether it be professional mentors I have, or groups of colleagues at similar institutions where we're able to ask questions openly, with no risk of judgment or anything like that.
That's been something over the past year that we've had to take advantage of probably more than any other time, with all of the upcoming changes and things that have been thrown at us. So leaning more on my network — my financial aid friends and mentors — has been crucial.
What's the best thing that has happened to you recently?
Participating in the NASFAA FAFSA Simplification Implementation Working Group has been an extremely fulfilling thing that has happened in my career. It was my first NASFAA task force.
It's helped me be able to work through the changes at a higher level just because I'm within that group along with NASFAA and other colleagues. It's also allowed me to present on FAFSA simplification all over the country. Within the last year I have probably presented at 12 to 15 different conferences. Springboarding from the NASFAA FAFSA simplification working group has allowed me to get out and do honestly one of the things I love most in the profession — and that's to train and deliver information to others.
Publication Date: 6/12/2023
---