The Allan W. Purdy Distinguished Service Award is one of the highest awards that NASFAA bestows and may be awarded either for significant contributions in the furtherance of NASFAA's goals over a sustained period of time OR for a single contribution of such momentous importance as to deserve the award.
An award recipient may come from the financial aid, political, educational, business, or other community. In addition to any selection(s) made from nominations for the Allan W. Purdy Distinguished Service Award, the association normally recognizes the significant and sustained contributions of the NASFAA National Chair with this award at the end of the Chair's term.
The NASFAA Awards Nomination process is now closed. Winners will be announced this summer at the NASFAA National Conference.
2017 Allan W. Purdy Distinguished Service Award Winner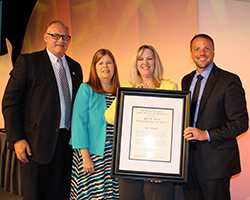 Dr. Lisa Blazer, senior associate vice president for student affairs at the University of Texas at San Antonio (UTSA).
With more than 25 years of financial aid and admissions experience, Blazer has dedicated 14 years of her professional life in multiple roles at UTSA, where she oversees Financial Aid & Scholarships, Admissions, Registrar, Orientation, and the One-Stop Enrollment Center. Her contributions to the financial aid profession include serving as NASFAA's 2016-2017 national chair, as president of TASFAA and SWASFAA, and as a key member of several NASFAA committees including Association Governance, Finance, and Research. Blazer is a dedicated leader and strategic planner, an accomplished speaker and presenter, a consummate professional, and a career-long advocate for students and families.