This award is presented to an individual who has made an important contribution to the Association or to the profession. To receive a Meritorious Achievement Award the individual should have made either an important single contribution to the Association or the profession; or significant multiple contributions to the Association or the profession.
The NASFAA Awards Nomination process is now open for member nominations until February 15, 2021. Winners will be announced this summer at the NASFAA National Conference.
2020 Meritorious Achievement Award Winner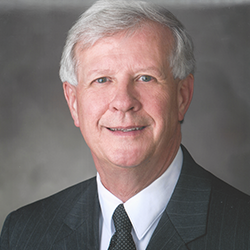 Craig Munier, Assistant Director of Policy, Liaison and Implementation (Retired), U.S. Dept. of Education
Craig Munier's career in financial aid has spanned nearly four decades; during this time, he has consistently and passionately advocated for students, financial aid programs, and aid administrators. He has led the financial aid community in its efforts on three different fronts over his tenure. Craig began in financial aid as a graduate assistant in 1982 after serving in admissions for six years in both the private and community college sectors. He was the Associate Director at the University of Illinois at Urbana/Champaign for 11 years. He then moved on to become the Director of Financial Aid and Scholarships at the University of Nebraska-Lincoln. Sixteen years later, Craig moved to the U.S. Department of Education where he served as Assistant Director of Policy, Liaison and Implementation until his retirement in January of this year. During his career, Craig served as NASFAA's 2013-14 National Chair, National Chair of COSUAA, and chair of the National Direct Student Loan Coalition. As NASFAA Chair, Craig convened policy task forces on Consumer Information, Program Integrity, Public Service Loan Forgiveness, and Professional Ethics. NASFAA recognized Craig with the Allan W. Purdy Distinguished Service Award in 2014. He also served as a NASFAA trainer and has shared his wealth of knowledge in countless updates, town halls, and presentations.