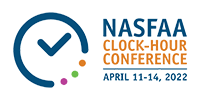 NASFAA is hosting a 100% virtual conference exclusively focusing on clock hour programs, which will take place April 11-14, 2022. Daily webinars will cover basic and advanced regulatory practices applicable to clock hour institutions.
**If you have already registered for this event, access your sessions here.**
Sessions
Diving Into Clock Hour SAP Policies
Monday, April 11, 2022 - 2:00 p.m. - 3:30 p.m. ET
Satisfactory Academic Progress (SAP) is a federal requirement for all schools and programs. Clock hour schools can experience unique challenges due to the nature of clock hour programs, hours, weeks, etc. This workshop will go beyond the basics of SAP and will discuss some of the unique concerns for clock hour schools. In addition to training, a question-and-answer period will be included to cover some best practices.
Distance Education and Accreditation Issues in a Clock Hour Environment
Tuesday, April 12, 2022 - 2:00 p.m. - 3:30 p.m. ET
Have you wanted to have a program approved for asynchronous distance education? Join this panel of accreditation field experts to explain what is required and how to make this happen while still being compliant with Title IV regulations and clock hour definitions.
Tricks of the Trade: Tracking Nonterm Payment Periods and Other Clock Hour Challenges
Wednesday, April 13, 2022 - 2:00 p.m. - 3:30 p.m. ET
Does hearing "nonterm program" make you want to throw your hands in the air? With clock hour programs, financial aid administrators have no choice but to delve into the complexities of nonterm payment periods. In this session, we will discuss some of the challenges that are unique to clock hour programs, such as R2T4 calculations and tracking payment periods that don't have a static end date.
Top Compliance Issues With Clock Hour Programs
Thursday, April 14, 2022 - 2:00 p.m. - 3:30 p.m. ET
Clock hour programs come with a unique set of circumstances that do not necessarily apply to credit hour programs, and consequently, they are often seen as an outlier in Title IV administration. In this session, a group of panelists from clock hour schools will discuss the challenges they face every day, such as prorating financial aid for early completers, VA certifications, attendance and excused absence policies, clock-to-credit conversions, competency-based education, and other hot topics that are not always discussed at other financial aid trainings. There will also be time at the end of the presentation for audience members to ask questions.