MVP Catherine M. Boscher-Murphy

MVP: Most Valuable Professional is an occasional series that features a brief Q&A with a different NASFAA member. Do you know a financial aid colleague with something interesting to say? Send the names of potential future MVPs and a short note about why you're nominating them to [email protected].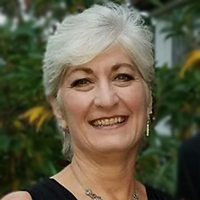 Catherine M. Boscher-Murphy®
Associate Director of Financial Aid
Montclair State University
Meet Catherine Boscher-Murphy, associate director of financial aid at Montclair State University. Throughout her 41-year financial aid career, Catherine has found herself continually drawn to working in an academic environment.
Outside of her on-campus work, Catherine also ran a successful financial aid consulting business for a decade, where she would assist schools with verification or write policies and procedures manuals, conduct trainings, and even conduct quasi program reviews to determine institutional compliance with federal rules and regulations.
When it comes to financial aid tools, Catherine's favorite has been AskRegs.
"It's really my go-to, and it's funny because someone in our office was having a conversation with another professional and they asked, 'Well, where do you go to get your information?' And so somebody said AskRegs and three people on the call said 'Oh, Catherine is our AskRegs,' so it's kind of a compliment," Catherine said. "I enjoy how quickly we can use these resources."
Over the years, Catherine has served in many roles including as a committee chair of both NJASFAA and EASFAA and a past-president of NJASFAA. In nominating Catherine for NASFAA's MVP series, her colleague Jim Anderson said Catherine "is the type of person in our profession who is always willing to help colleagues with anything: regulatory issues, compliance challenges, a shoulder to cry on. Anything."
Learn more about Catherine, her interests, and her career path in the Q&A below!
How did you get your start in financial aid?
I was a resident assistant for three years when I was an undergrad and I liked the academic environment, the whole college feel. So when I graduated, I applied for every higher education job I could find in the area and happened to land a job at St. Thomas Aquinas College in Rockland County, New York, in admissions and financial aid. After a couple of years there, I determined I didn't really like admissions. I spent two years as a guidance counselor at a small private, all-girls school and missed financial aid.
I then went to work for a vocational technical school — they'd just been approved for financial assistance as a Title IV institution, so we basically developed the program and I worked with students who were going. Then I went to private schools back and forth. After that, I ran my own business for nine-and-a-half years to do financial aid consulting with colleges and universities.
After running my own business, I missed being in a collegial environment with colleagues and people to talk to. So this job at Montclair cropped up and I knew the director, Jim Anderson, from his work with Sallie Mae. He needed somebody to come in and do compliance and because I had been doing that for the last nine years through my business, it was a perfect fit.
What have been some of the biggest changes you've noticed in the profession since beginning your career?
There's a much greater disconnect between students understanding what financial aid is and how it works. I started in 1981 and one of the biggest tenets of financial aid has been that these programs are designed to help support students and families, not necessarily replace the family's contribution. I think our students now have a hard time understanding that.
We also have a lot more rules and regulations to try and decipher, interpret, and follow.
Could you tell us a little bit about your institution and your current role?
We are the second largest public institution in the state of New Jersey. We currently have about 23,000 students, mostly undergraduates, but about 4,000 or 5,000 graduate students. We have more than 300 majors, minors, and concentrations. We've been growing over the last several years since I started — we've more than doubled our population.
We have a really good team. Everybody has a specialty, but we all have to understand enough basics to answer questions for parents and families. It's a good crew; there seems to be a thirst for knowledge here. They really want to learn and know new things.
What do you find the most rewarding and fulfilling about your work?
It's helping students. Every now and then a student or a parent will send a thank you note or an email and just a couple of kind words which says something along the lines of, "We appreciate what you did." That's what keeps us coming back because God knows it isn't the regulations!
There's a certain feeling at an institution of higher education where you know that even if you never see the student, that you've offered some assistance. And again, that occasional "thank you" keeps us going.
If you could change one thing about financial aid, what would it be?
I would get rid of R2T4 in a minute. I think it's gotten very complicated, particularly with the new rules from the department related to modular programs and modular coursework. Given that we have lifetime limits for both Pell Grants and the federal loans, it's somewhat unnecessary.
What's something you wish all higher ed folks knew about financial aid?
The biggest takeaway for other administrators and our colleagues on campus is to understand that there is so much complication behind one action in a financial aid office. We are not just button pushers, it's not instant.
There's a lot that goes into helping a student, counseling, advising, fixing a problem, trying to give them the maximum amount of aid. There are cases where we spend days talking back and forth with a student. I'm sure the higher-ups and other colleagues are not aware of that.
Do you have any recommendations for people just getting started in the field?
I've always believed that working at a small private college gives you the best education in financial aid because you have to know a decent amount about every area. Newer staff should fully embrace all the training workshops that they can attend, their state conferences, and credentials, which I was very involved in for the last five years through EASFAA. The credentials are great and targeted and easy to achieve.
Training and networking are also key to surviving in this field, and that's where newer professionals are going to learn the most.
What's something you couldn't function without?
Having access to people, whether at the job or at home, that are caring and understanding and listen.
What's on your bucket list, or do you have any upcoming travel plans?
My bucket list includes going back to Italy and England. I'd also like to see Scotland and France. I'd love to do a river cruise in France, and I would also like to go back to Tuscany.
What's helped you the most in getting through the past year?
There's a small group of us here in New Jersey that are heavily involved with compliance on our campuses. We have a weekly Zoom meeting and it not only gives us the opportunity to talk about work and run scenarios past each other, but we've gotten to know each other personally very well, too.
Having people within the field that understand what you're going through makes it really easy to talk about it.
What's the best thing that has happened to you recently?
My husband and I went to Amsterdam for three days to see the Vermeer painting exhibit and that was really cool.
Publication Date: 9/25/2023
---