By Justin Draeger, NASFAA President and CEO
Welcome to NASFAA's "Altitude," a new-ish Today's News series that aims to provide a 30,000-foot view on the intersections of economics, public policy, management, and student financial aid. Look for an assortment of links, reactions, conversations, and other missives from NASFAA President Justin Draeger and others. It may be easier to say what this series isn't: a place to find answers to tough regulatory and implementation questions. We'll be trying out this series over the next few months, so please send us your comments and follow us on Twitter.
If you're working in an aid office and worried about the "great resignation" (and it appears many are), Derek Thompson tries to set your mind at ease in The Atlantic by dissecting the issue in more detail. His findings:
1. People Are Not Quitting, But Upgrading to Higher Paying Jobs
Most people are not quitting — they're switching to better, higher paying jobs in industries that are raising wages. To a big extent, the so-called great resignation is actually the "great job transfer," as people move to higher paying positions.
Data from the Federal Reserve Bank of Atlanta measures the nominal wage growth of individuals dating back to 1998. The fastest way to wage growth, according to their model? Switch jobs. That's bad news if you're an office that has lower-wage employees.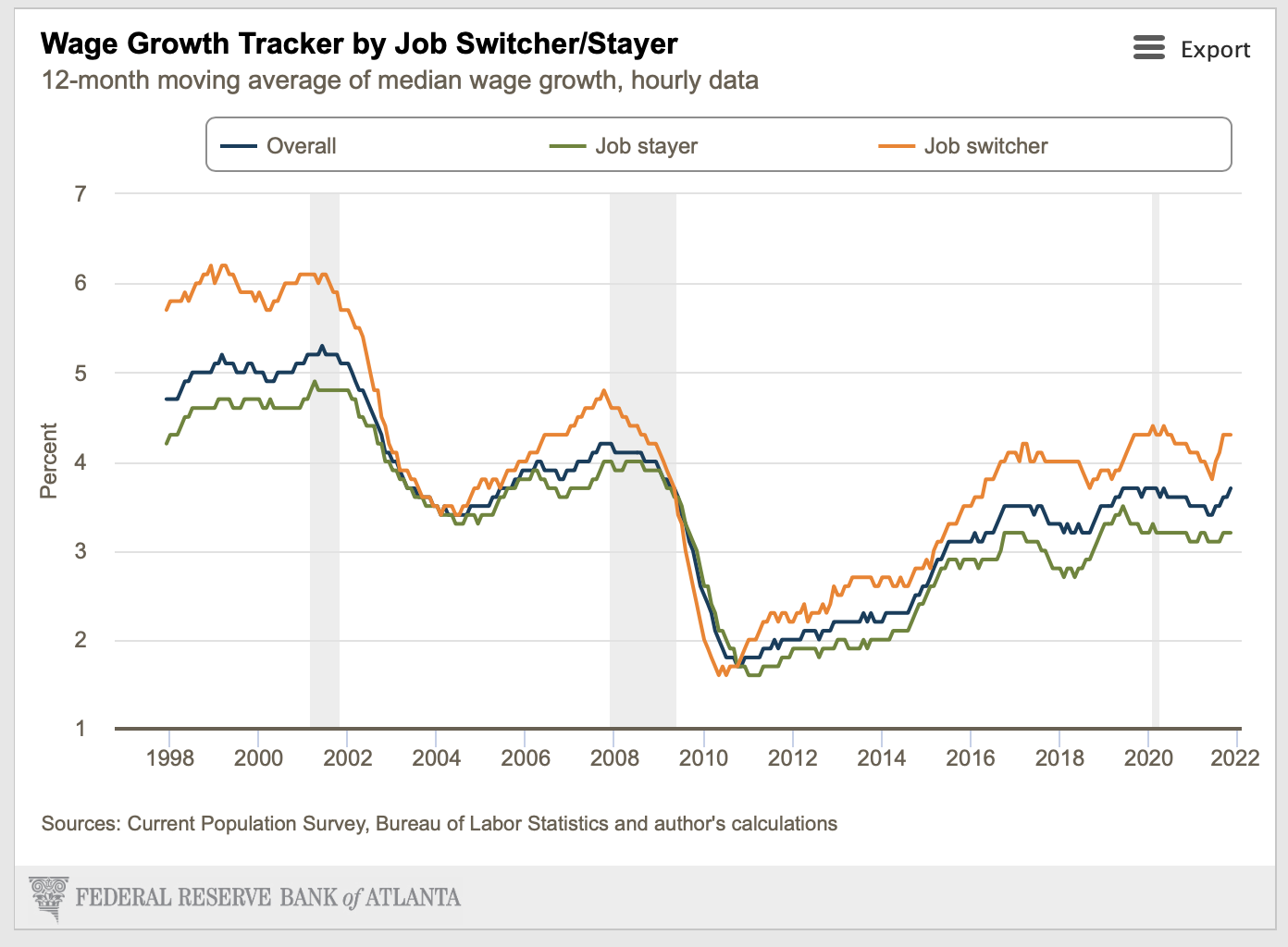 My Follow-Up Question
Are people leaving aid offices to work in other aid offices, or leaving financial aid entirely? My sense is that it may be the latter.
2. Burnout Not Necessarily Leading to Resignations
For all of the reported burnout in "white collar" jobs, it doesn't appear to be leading to higher than usual resignations, according to Thompson. Yes, there may be a lot of burnout, but the data says that burnout alone doesn't appear to be leading people to quit in finance, real estate, publishing, software development, and/or the information sector broadly. That's not to say that burnout doesn't have lots of other negative impacts in the office, or on students.
My Follow-Up Question
When people feel burned out, underpaid, and undervalued, I assume they'll be less willing to put in extra work during periods of enrollment crunch. As one NASFAA commenter recently pointed out:
"Sad for the us and the students, because this means that when [it's] 5:00 p.m. you are out no matter what!"
3. As For Outright Resignations, Retirements Leading the Way
Only about 10% of the workforce is actually leaving entirely, and those are mostly led by retirees who are retiring early. In fact, data says most companies and institutions should be most worried about their senior executives and managers, baby boomers who have had enough. As Jeanna Smialek put it in The New York Times, 2021 "may have been the year that 'OK, Boomer' ceded the floor to 'You OK, Boomer?'"
Why It Matters
Financial aid offices are facing significant turnover and resignations, as reported by NASFAA's Owen Daugherty last week. That has widespread implications for schools and students. As I told Inside Higher Ed and often tell college presidents and boards, schools can pay now, or pay more later, when they're found understaffed, underresouced, and out of compliance.
As one NASFAA commenter framed it:
"I can speak from an applicant's point of view. With over a decade of experience and 7 NASFAA credentials, the schools are not paying enough for aid administrators. Currently I have done interviews for FAA roles, management and non-management, and they are offering $45k or less, most offering in the high $30's. The schools' administrators or board of the schools is what's hurting the profession, not considering experience and credentials appropriately and offering low wages."
The Silver Lining
If data holds true, this may be a relatively simple problem to solve: increase wages in financial aid offices. Ah, but I can hear the "easier said than done" comments already! Not all institutional budgets are in a place to provide significant salary increases to stem resignations. At the end of the day, this may come down to institutional priorities, as I recently discussed with National Chair Brent Tener in "Off The Cuff."