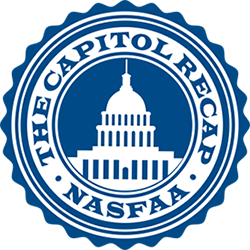 With reauthorization of the Higher Education Act due for action, members of Congress unveil new proposals for the future of higher education on a continuous basis. NASFAA's series, The Capitol Recap, provides a monthly update on new pieces of legislation introduced in both the House of Representatives and the Senate to provide aid administrators with the most up-to-date information for their offices and their own administration. Bills listed here, unless otherwise noted, have been referred to committee and are awaiting action or consideration.
For a complete list of legislation introduced in this session of Congress, visit the NASFAA Legislative Tracker.
August 2022
The Student Loan Literacy Act of 2022, introduced by Rep. Jeffries [D-NY], would provide federal funding to community-based organizations and other stakeholders, such as direct service providers, who engage with student borrowers. The funding would create or expand consumer assistance programs (CAPs) in order to provide assistance to struggling borrowers who experience the difficulties of navigating the federal student lending system in the United States. With additional funding, these programs will also assist student borrowers in learning about repayment options and debt forgiveness programs that may be applicable to them.
The Debt Cancellation Accountability Act of 2022, introduced by Rep. Davidson (R-OH), would prohibit the Department of Education from making any federal student loan forgiveness without direct appropriations from Congress.

The Simplifying Student Loans Act, introduced by Rep. Wild (D-PA), would replace existing repayment plans with two new options: a fixed repayment plan and an income-based repayment plan. It would implement a limit on how much of a person's monthly income (after they pay their necessary expenses) can go towards their student loan payments. Additionally, the bill calls for a one percent interest rate on federal student loans disbursed on or after July 1, 2023.

The REAL Reforms Act, introduced by Rep. Foxx (R-NC), would place a cap on the overall amount any borrower would repay on their student loans. It will offer more targeted loan relief for borrowers by making adjustments to income-driven repayment plans. It will also provide institutions the authority to limit excessive borrowing for certain populations of borrowers who are experiencing specific circumstances. The bill also proposes the elimination of the Public Service Loan Forgiveness program and calls for a decrease in the federal loans available to graduate and professional students.
The COLLEGE Act, introduced by Sen. Scott (R-FL), would require institutions with large endowments who participate in federal financial aid programs to cover a percentage of the cost of attendance of each enrolled full-time student. The greater the endowment of the institution, the higher the percentage they will be required to cover. This bill would require that these institutions collect and submit data to the Department of Education relating to things such as cost of attendance, if the COA has increased throughout from the previous year, the amount of money in their endowment, and if the endowment has increased. The institutions will also be required to submit data to the Department for purposes of program integrity.
For additional updates on some of these topics, be sure to select related items in the Suggested Content area; you can also sign up to receive email notifications weekly when content has been updated.