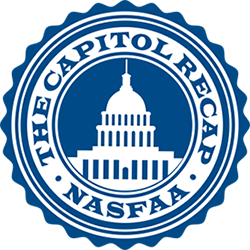 With reauthorization of the Higher Education Act due for action, members of Congress unveil new proposals for the future of higher education on a continuous basis. NASFAA's series, The Capitol Recap, provides a monthly update on new pieces of legislation introduced in both the House of Representatives and the Senate to provide aid administrators with the most up-to-date information for their offices and their own administration. Bills listed here, unless otherwise noted, have been referred to committee and are awaiting action or consideration.
For a complete list of legislation introduced in this session of Congress, visit the NASFAA Legislative Tracker.
November and December 2018
S. 3611/HR 7386, FAFSA Act: This bill, the Faster Access to Federal Student Aid (FAFSA) Act, would, through better integration with the Department of Education (ED) and the Internal Revenue Service (IRS), simplify the application, verification, and student loan repayment processes. The FAFSA Act would amend section 6103(l) of the Internal Revenue Code to allow the IRS to disclose tax return information to authorized ED officials for the purposes of "determining eligibility for, and amount of, Federal student financial aid." The allowable information to be disclosed would include all items currently brought over from the DRT, and would also include "the filing status of such taxpayer," including whether the applicant had filed taxes. Strongly supported by NASFAA, this bipartisan bill is sponsored by Sens. Alexander (R-TN) and Murray (D-WA) and by Reps. Walberg (R-MI) and DelBene (D-WA).
S. 3769, Early Pell Promise Act: This bill would create an "Early Federal Pell Grant Commitment Program," which would be administered by state educational agencies. The initiative would provide a two-year Pell Grant commitment for use at an institution of higher education to qualifying 8th grade students on the basis of their eligibility for free or reduced lunch. A student would not receive a Pell Grant for the second year of the commitment if the expected family contribution were more than twice the threshold amount for Pell Grant eligibility for that year. Students in the program are automatically eligible for the maximum Pell Grant award for that award year. This legislation is modeled after the Kalamazoo Promise program in Michigan. Sen. Stabenow (D-MI) sponsored this bill, introduced in the House in 2017.
HR 7229, Student Rights Act: Sponsored by Rep. Brat (R-VA), this bill would impose several "expressive activity" requirements on public insitutions.
For additional updates on some of these topics, be sure to select related items in the Suggested Content area; you can also sign up to receive email notifications weekly when content has been updated.