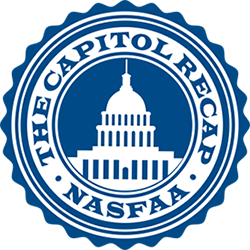 With reauthorization of the Higher Education Act due for action, members of Congress unveil new proposals for the future of higher education on a continuous basis. NASFAA's series, The Capitol Recap, provides a monthly update on new pieces of legislation introduced in both the House of Representatives and the Senate to provide aid administrators with the most up-to-date information for their offices and their own administration. Bills listed here, unless otherwise noted, have been referred to committee and are awaiting action or consideration.
For a complete list of legislation introduced in this session of Congress, visit the NASFAA Legislative Tracker.
January 2017
HR 483, No Funding for Sanctuary Campuses Act: This bill, introduced by Rep. Hunter (R-CA) with 14 Republican co-sponsors, prohibits federal financial aid for higher education institutions that have "sanctuary campus" policies in effect to shield or protect undocumented students from law enforcement. Institutions would be classified as a "sanctuary campus" by the Secretary of Homeland Security based on several criteria outlined in the bill.
S. 128, BRIDGE Act: This measure, the "Bar Removal of Individuals who Dream and Grow our Economy (BRIDGE) Act," would provide three years of provisional protected status to recipients of deferred action status under President Obama's Deferred Action for Childhood Arrivals (DACA) program and to those currently eligible but not yet participating in DACA. Sen. Graham (R-SC) introduced the bill, which is supported by NASFAA.
S. 229, Protect DREAMer Confidentiality Act: Introduced by Sen. Heinrich (D-NM), This bill would block the disclosure or transmission of Deferred Action for Childhood Arrivals (DACA) program participant information for purposes other than the implementation of the program itself, exempt in the case of national security concerns.
HR 414, Encourage our Educators Act: This measure would allow teachers to qualify for both teacher loan forgiveness and public service loan forgiveness. Introduced by Rep. Lawrence (D-MI), the bill increases the teacher loan forgiveness amount from $5,000 to $17,500 and shortens the employment requirement for teacher loan forgiveness from five years to three.
S. 149, Terrorism Survivors Student Loan Deferment Act: Sponsored by Sen. Rubio (R-FL), this bill would allow survivors of terrorist attacks, as determined by the federal agency investigating the attack, to defer loan payments for one year, not counting against the three-year deferment allowance. The bill applies to Direct Loans, Perkins Loans, and FFELP Loans.
HR 500, Andrew P. Carpenter Tax Act: This measure, also known as the "Tax Relief for our Nation's Heroes Act," would exclude student loan discharge for a deceased or disabled veteran from the calculation of gross income. Rep. DesJarlais (R-TN) introduced the bill.
HR 413, Early Pell Promise Act: This bill would create an "Early Federal Pell Grant Commitment Program," which would be administered by state educational agencies. The initiative would provide a two-year Pell Grant commitment for use at an institution of higher education to qualifying 8th grade students on the basis of their eligibility for free or reduced lunch. A student would not receive a Pell Grant for the second year of the commitment if the expected family contribution were more than twice the threshold amount for Pell Grant eligibility for that year. Students in the program are automatically eligible for the maximum Pell Grant award for that award year. This legislation, sponsored by Rep. Lawrence (D-MI), is modeled after the Kalamazoo Promise program in Michigan.
S. 206, Jumpstart Our Businesses by Supporting Students (JOBS) Act: This bill, introduced by Sen. Kaine (D-VA), would allow Pell Grant funds to be used for short-term job training programs at an institution of higher education. The maximum award for a job training Pell Grant would be 50% of the current maximum award amount and would not be subject to the annual inflation adjustment to the maximum award, meaning in award year 2017-2018, a hypothetical job training Pell Grant would have a maximum award of $2,430.
HR 480, Student Loan Opportunity Act: Sponsored by Rep. Flores (R-TX), this bill would allow qualified scholarship funding corporations to use tax-exempt bonds to finance private student loan programs. Currently, qualified scholarship funding corporations, as defined in IRS Code, are ineligible to issue tax-exempt bonds.
HR 529, 529 and ABLE Account Improvement Act: The bill proposes tax code changes related to 529 and ABLE plans. Among the changes are tax incentives for employers to contribute to 529 and ABLE accounts and removing penalties for using 529 funds to pay student loans. Rep. Jenkins (R-KS) introduced this bill.
HR 615, Student Loan Repayment Act: This measure, introduced by Rep. Ross (R-FL), would include "qualified student loan repayers" among those eligible under the Work Opportunity Tax Credit for employers. The bill allows for a $1,500 tax credit to employers to implement a repayment match program with a minimum qualifying match contribution of $2,000 per year by employees. Repayment assistance would be considered income and therefore subject to income tax. The bill defines a "qualified student loan repayer" as a borrower with at least an associate's degree and outstanding debt of at least $10,000.
For additional updates on some of these topics, be sure to select related items in the Suggested Content area; you can also sign up to receive email notifications weekly when content has been updated.