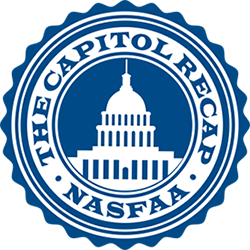 With reauthorization of the Higher Education Act due for action, members of Congress unveil new proposals for the future of higher education on a continuous basis. NASFAA's series, The Capitol Recap, provides a monthly update on new pieces of legislation introduced in both the House of Representatives and the Senate to provide aid administrators with the most up-to-date information for their offices and their own administration. Bills listed here, unless otherwise noted, have been referred to committee and are awaiting action or consideration.
For a complete list of legislation introduced in this session of Congress, visit the NASFAA Legislative Tracker.
October 2019
H.R.4706/S.2608 - The bicameral legislation, the Advancing Competency-Based Education Act of 2019, introduced by Rep. Neguse [D-CO] and Sen. Hassan [D-NH] would create a competency-based education (CBE) demonstration project that would allow institutions, selected by the Department of Education (ED), to request a waiver of, or flexibility on, certain statutory and regulatory requirements in order for them to award Title IV aid under a CBE model. ED would be required to conduct outreach to institutions eligible to take part in the program. The bill would also create a CBE council which would be charged with conducting a study on ongoing innovation and development of CBE programs, as well as make recommendations to Congress that would update standard definitions and/or address the metrics of a CBE program.
H.R.4648 - The Transparency in Off-Campus Housing Act, introduced by Rep. Horsford [D-NV] would allow ED to regulate how school calculate room and board for students living with parents or living off-campus. Regulations of the bill would require a waiver to allow institutions to diverge from the regulated methodology but those institutions would still need to provide their methodology for their calculation, and be able to demonstrate that they are using reliable information.
H.R.4637 - The Opportunity to Address College Hunger Act, introduced by Rep. Bonamici [D-OR], aims to address student hunger on college campuses by enabling eligible students with the information and resources needed to apply for the Supplemental Nutrition Assistance Program (SNAP) as well as encourage the federal government, states and institutions to be more proactive in their effort to address student hunger. The bill would also create a college student hunger demonstration pilot program that will test models that allow students to use SNAP to purchase food from university dining halls.
H.R.4587 - The Truth in Tuition Act of 2019, introduced by Rep. Cartwright [D-PA], would mandate that institutions provide to each admitted students regardless of level a multi-year tuition and fee schedule or a single-year tuition and fee schedule with a nonbinding multi-year estimate of net costs after all financial aid is awarded.
S.2667 - The FAFSA Simplification Act of 2019, introduced by Sen. Alexander [R-TN], would create a streamlined financial aid application process, while still giving schools, states, and scholarship providers enough information to offer financial aid to today's diverse college-going population. Under this proposal, all students would be able to determine their Pell Grant eligibility through Adjusted Gross Income (AGI) and household size.
H.R.4680 - The Equitable Student Aid Access Act. introduced by Rep. Doggett [D-TX], would add receipt of a federal means-tested benefits program (such as SSI, SNAP, and Medicaid) as a sole qualifier for an auto-zero expected family contribution (EFC) determination. This change would allow students and families who have already demonstrated high need to automatically qualify for maximum federal student aid, thereby reducing the FAFSA to personal identity and non-income eligibility questions. In addition, the bill codifies the Early FAFSA and use of prior-prior year (PPY) tax information put into place by former President Barack Obama via executive action in fall 2015, ensuring that students will continue to be able to submit their federal financial aid application for the coming school year in October rather than in January using data financial data filed with the IRS two years prior.
H.R.4584 - The Financial Aid Fairness for Students Act, introduced by Rep. Bass [D-CA], would repeal Section 484(r) of the Higher Education Act, no longer suspending federal financial aid for students who have been convicted of a drug offense. The bill would also remove the question pertaining to drug offenses from the FAFSA.
H.R.4747 - The Making College More Affordable Act, introduced by Rep. Cicilline [D-RI], would create a new loan type, a Federal Interest Free Education Loan, eliminating all other direct loan programs. The loan would carry a 3.76% interest rate for the lifetime of the loan with an aggregate borrowing limit of $90,000.
H.R.4674 - The College Affordability Act, introduced by Rep. Scott [D-VA] is a comprehensive HEA reauthorization bill that would expand student eligibility for the Pell grant, expending the Pell LEU from 12 to 14 semesters. It would also remove the requirement that eligible male students register with Selective Service before applying for financial aid. The bill creates a FAFSA simplification plan, that sends students down 3-pathways on the FAFSA depending on their income and family circumstances. It also adds some standardization to financial aid offers. Repayment plans would be limited to only two options under the CAA, an income-based plan, or a fixed plan. Origination fees would be eliminated with the bill, and borrowers would now be eligible for a one-time student loan refinancing.
H.R.4638 - The Degrees Not Debt Act of 2019, introduced by Rep. Carbajal [D-CA], would increase the maximum amount of the Federal Pell Grant, increase the income threshold for auto-zero EFC calculations as well as creates a simplified FAFSA application for low-income families.
H.R.4609 - The Veteran Service Equity Act, introduced by Rep. Levin [D-CA], would allow borrowers who have full-time jobs with a veteran or military service organization that does not engage in partisan political campaign activity to be eligible for public service loan forgiveness.
H.R.4639 - The Pell Grant Sustainability Act, introduced by Rep. Casten [D-IL], would index the Pell Grant to inflation.
H.R.4608 - The Pell Plus Act of 2019, introduced by Rep. Kilmer [D-WA], would allow institutions to provide a Pell Grant bonus to low-income students in their third and fourth years to aid in on-time completion. Eligible students who are on track to graduate in four years would be given access to the same total Pell Grant amounts that are currently made available only to those who take six years to complete. The additional funds would be matched by participating institutions.
For additional updates on some of these topics, be sure to select related items in the Suggested Content area; you can also sign up to receive email notifications weekly when content has been updated.