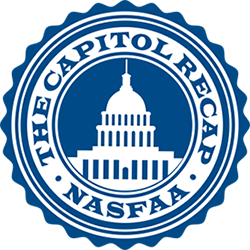 With reauthorization of the Higher Education Act due for action, members of Congress unveil new proposals for the future of higher education on a continuous basis. NASFAA's series, The Capitol Recap, provides a monthly update on new pieces of legislation introduced in both the House of Representatives and the Senate to provide aid administrators with the most up-to-date information for their offices and their own administration. Bills listed here, unless otherwise noted, have been referred to committee and are awaiting action or consideration.
For a complete list of legislation introduced in this session of Congress, visit the NASFAA Legislative Tracker.
December 2021
The Community College to Career Fund in Higher Education Act, introduced by Rep. Kelly [D-IL], would create a grant program that would aim to support partnerships between two-year colleges and local businesses. Priority for the grants would be given to institutions that are focused on serving individuals with barriers to employment such as veterans or incumbent workers who are low-skilled and are located in areas with high unemployment rates. The partnerships created would be those that focus on job training-related efforts, such as apprenticeships and paid internships for low-income students that allow them simultaneously to earn credit for work-based learning in a high-skill field.
The CREATE Graduates Act, introduced by Sen. Casey [D-PA], would allow students who completed credits at a two-year college and then transferred to a four-year college but never finished a degree to transfer their credits back to the two-year college to receive an associates degree, if eligible.
The No Double Debt for Disaster Survivors Act of 2021, introduced by Rep. Carter [D-LA], would authorize the Secretary of Education to cancel outstanding student loan debt for Small Business Administration disaster loan borrowers as a result of the COVID-19 pandemic or a natural disaster. The amount of student loan debt cancelled would not exceed the amount of the SBA disaster loan.
The Protecting Our Gold Star Families Education Act, introduced by Sen. Kaine [D-VA], would expand access to Pell Grants to the dependents of those killed in action in Iraq or Afghanistan after September 11, 2021. In 2019 sequestration forced institutions to reduce the Iraq and Afghanistan Service Grant by 6.2%, this bill would move the Iraq and Afghanistan Service Grant to the Pell Grant Program, which is exempted from effects of sequestration, allowing eligible students to be eligible for the maximum Pell Grant for each award year.
For additional updates on some of these topics, be sure to select related items in the Suggested Content area; you can also sign up to receive email notifications weekly when content has been updated.