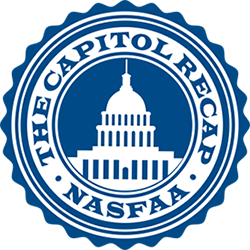 With reauthorization of the Higher Education Act due for action, members of Congress unveil new proposals for the future of higher education on a continuous basis. NASFAA's series, The Capitol Recap, provides a monthly update on new pieces of legislation introduced in both the House of Representatives and the Senate to provide aid administrators with the most up-to-date information for their offices and their own administration. Bills listed here, unless otherwise noted, have been referred to committee and are awaiting action or consideration.
For a complete list of legislation introduced in this session of Congress, visit the NASFAA Legislative Tracker.
May 2017
HR 2482, Federal Perkins Loan Program Extension Act: This bill would extend the Federal Perkins Loan Program for two additional years, thereby moving its authorization expiration from September 30, 2017, to September 30, 2019. Supported by NASFAA, the bill is a simple two-year extension of the previous extension of the program in 2015, meaning graduate and professional students will regain eligibility for a year before becoming ineligible again the following year. Rep. Stefanik (R-NY) sponsored this measure, covered in Today's News, which has 40 co-sponsors, including 10 Republicans and 30 Democrats.
S. 1121/HR 2434, College Transparency Act: This bill, covered in Today's News, would create a new "postsecondary student data system," thereby repealing the ban on the federal government from collecting student-level data. Sen. Hatch (R-UT) introduced this bill in the Senate, and Rep. Mitchell (R-MI) introduced the bill in the House. Supported by NASFAA, the bill aims to modernize the federal data reporting system, thereby reducing data reporting burdens on institutions. The data system would contain data elements related to student enrollment, persistence, retention, transfer, and completion measures. The bill contains several privacy provisions and includes prohibitions on the collection of certain information, including religion, course grades, and citizenship status, among others. Ultimately, the new data collection will be used to create a user-friendly portal for the public to compare institutions. The bill's provisions apply to all institutions of higher education that receive Title IV federal student aid. Institutions not participating in the Title IV programs may voluntarily submit data for inclusion in consumer tools.
HR 2300, Students Before Profits Act: With a focus on the proprietary sector, this piece of legislation would impose civil penalties on executives of institutions found to be misrepresenting student data, require the Secretary of Education to monitor cohort default rate (CDR) manipulation and make retroactive adjustments to CDRs if manipulation is discovered, make executives personally liable for financial losses due to borrower defense to repayment, and bar board members and executives from institutions the Department of Education has pursued enforcement action against from working at another institution of higher education. Rep. Waters (D-CA) sponsored this bill.
HR 244, Consolidated Appropriations Act, 2017: Signed into law on May 5 by President Trump, this bill, the omnibus spending bill for federal fiscal year 2017, includes the restoration of the "year-round Pell Grant" and a cut to the Pell Grant program surplus. In addition, the spending bill provides level funding for the Federal Work Study (FWS) and Federal Supplemental Educational Opportunity Grant (FSEOG) programs. The bill was covered in detail in Today's News.
HR 2378, Save for Success Act: This bill, introduced by Rep. Lujan (D-NM), would allow families to earn up to $250 per year of the American Opportunity Tax Credit (AOTC) for every year a family contributes to an eligible college savings account (529 plan) beginning with the birth of the student. The lifetime AOTC cap of $10,000 would remain. In addition, the bill would establish a pilot program with the Department of Education and the Department of the Treasury to explore real-time payments of the AOTC to better align with tuition payments.
For additional updates on some of these topics, be sure to select related items in the Suggested Content area; you can also sign up to receive email notifications weekly when content has been updated.