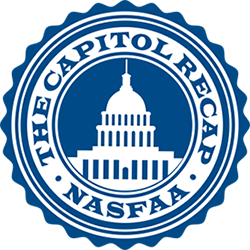 With reauthorization of the Higher Education Act due for action, members of Congress unveil new proposals for the future of higher education on a continuous basis. NASFAA's series, The Capitol Recap, provides a monthly update on new pieces of legislation introduced in both the House of Representatives and the Senate to provide aid administrators with the most up-to-date information for their offices and their own administration. Bills listed here, unless otherwise noted, have been referred to committee and are awaiting action or consideration.
For a complete list of legislation introduced in this session of Congress, visit the NASFAA Legislative Tracker.
April 2022
The Stop Reckless Student Loan Actions Act of 2022, introduced by Sen. Thune [R-SD], would limit some of the authority of the President during national emergencies related to higher education actions. The legislation would end the current student loan repayment pause, prohibit the president from canceling student loans due to a national emergency, suspend the Secretary of Education from pausing loan repayment for more than 90-consecutive days as well as prohibit the Secretary from pausing repayment for households with annual incomes that exceed 400% of the federal poverty line.
The Student Loan Borrower Relief Act, introduced by Rep. Wilson [D-FL], would update from the existing income-driven repayment plans and the public service loan forgiveness program. Income-driven repayment plans would have the time to forgiveness reduced from 25 years to 15 years and payments would not exceed 10% of the borrower's adjusted gross income over 250% of the poverty line. If the borrower's monthly payment amount is less than the amount of interest accrued, the interest would be canceled. This bill would also make sweeping changes to the PSLF program, canceling a portion of the borrowers loan debt after every 12 months of eligible employment.
The PSLF Payment Completion Fairness Act, introduced by Rep. Houlahan [D-PA], would remove the requirement that a borrower must be employed at the time of forgiveness for PSLF, even after making the required 120 payments.
The Veteran Service Equity Act, introduced by Rep. Levin [D-CA], would expand the definition of eligible employment for PSLF proposes to include full-time jobs with any organization that is recognized by the Secretary of Veteran Affairs for the representation of veterans.
The CBE Act of 2022, introduced by Rep. Grothman [R-WI], would further define competency-based education to mean education that measures academic progress and attainment by direct assessment of a student's level of mastery and/or by expressing a student's level of mastery in terms of clock or credit hours.
For additional updates on some of these topics, be sure to select related items in the Suggested Content area; you can also sign up to receive email notifications weekly when content has been updated.