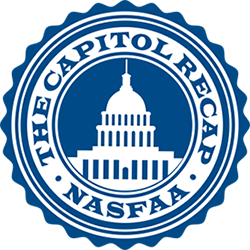 With reauthorization of the Higher Education Act due for action, members of Congress unveil new proposals for the future of higher education on a continuous basis. NASFAA's series, The Capitol Recap, provides a monthly update on new pieces of legislation introduced in both the House of Representatives and the Senate to provide aid administrators with the most up-to-date information for their offices and their own administration. Bills listed here, unless otherwise noted, have been referred to committee and are awaiting action or consideration.
For a complete list of legislation introduced in this session of Congress, visit the NASFAA Legislative Tracker.
February 2020
H.R.5961 - The Student Apprenticeship Act of 2020 introduced by Rep. Khanna [D-CA] would create a new grant program that would help to establish apprenticeships between institutions of higher education and employers. Students participating in the apprenticeships would be eligible to earn college credits as well as get paid for their work. Employers involved in the partnership should pay at least 25 percent of the student's tuition and fees. The bill would also revise the FWS program to include apprenticeship programs.
H.R.5768 - The Accreditation Reform Act of 2020 introduced by Rep. Trahan [D-MA] would increase the National Advisory Committee on Institutional Quality and Integrity's role in the review process of approved accrediting agencies as well as allow NACIQI members to take part in site visits conducted by ED. Under the bill ED would also be required to make public for comment any accreditation agency petitions for recognition. Included with the petition would be the agency's record of investigations, lawsuits settlements or adverse judgments for any violation relating to fraud or abuse to students enrolled at an institution the accrediting agency has previously accredited.
H.R.6033 - The Pell to Grad Act introduced by Rep. Lawrence [D-MI] would extend students' lifetime Pell Grant eligibility to 16 semesters and allow students who have received a Pell Grant award during their undergraduate education to utilize their remaining Pell eligibility towards their first graduate degree.
H.R.5784 - The Supporting Minority STEM Student to Career Act introduced by Rep. Fudge [D-OH] would update the Minority Science and Engineering Improvement Program to allow institutions to give scholarships to underrepresented population students pursuing degrees in a STEM program. The bill would also allow institutions to use the grant funds to support students through direct financial assistance or by improving the institutions ability to provide services such as academic advising, summer bridge program, or work-based learning opportunities.


For additional updates on some of these topics, be sure to select related items in the Suggested Content area; you can also sign up to receive email notifications weekly when content has been updated.