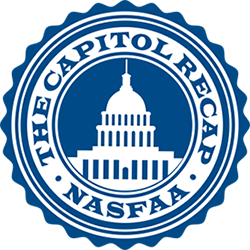 With reauthorization of the Higher Education Act due for action, members of Congress unveil new proposals for the future of higher education on a continuous basis. NASFAA's series, The Capitol Recap, provides a monthly update on new pieces of legislation introduced in both the House of Representatives and the Senate to provide aid administrators with the most up-to-date information for their offices and their own administration. Bills listed here, unless otherwise noted, have been referred to committee and are awaiting action or consideration.
For a complete list of legislation introduced in this session of Congress, visit the NASFAA Legislative Tracker.
October & November 2020
FAFSA Simplification
The Pandemic Accommodation to Support Students Act (PASS) Act introduced by Rep. Underwood [D-IL] would amend section 3513 of the CARES Act, updating the date of the temporary relief for federal student loan borrowers from September 30, 2020 to September 30, 2021.
The Student Loan Relief Act introduced by Rep. Gonzalez [D-TX] would equire the Department of Education to provide a maximum of $25,000 in federal student loan forgiveness to borrowers. The bill would ensure that for borrowers who have more than $25,000 in federal student loan debt, the cancellation would be applied to borrower's loans in the order of highest interest rate. Any forgiveness would not be taxable.
Quality and Accountability
The Student Records Protection Act introduced by Rep. Cartwright [D-PA] would require institutions to create record-management plans in the event of the school planning to cease operations in order to be accredited or continue to be accredited. The school would need to include a plan for custody, continued access, and disposition of student records, including student transcripts, billing, and financial aid records.
For additional updates on some of these topics, be sure to select related items in the Suggested Content area; you can also sign up to receive email notifications weekly when content has been updated.