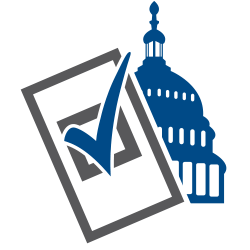 On this page, you'll find proposals that modify the existing tax code in areas relating to student financial aid.
For tax proposals from the previous session of Congress, visit the Legislative Tracker Archive: Tax Issues.
*NEW*

Stop Taxing Death and Disability Act
S. 405
Sponsor:
Sen. Coons (D-DE)
Co-Sponsors:
13 (5 R; 7 D; 1 I)
Introduced:
2/16/2017

NASFAA Analysis & Coverage: This bill would exclude loan forgiveness from death or disability, including the Total and Permanent Disability loan discharge (TPD), from the calculation of gross income for income tax purposes.

Employer Participation in Student Loan Assistance Act
HR 795
Sponsor:
Rep. Davis (R-IL, 13)
Co-Sponsors:
29 (11 R; 18 D)
Introduced:
2/1/2017

NASFAA Analysis & Coverage: This measure allows employers to contribute pre-tax earnings to help subsidize student loan repayments for their employees, up to $5,250 per year per employee.

Student Loan Repayment Act
HR 615
Sponsor:
Rep. Ross (R-FL-15)
Co-Sponsors:
0 (0 R; 0 D)
Introduced:
1/23/2017
NASFAA Analysis & Coverage: This measure would include "qualified student loan repayers" among those eligible under the Work Opportunity Tax Credit for employers. The bill allows for a $1,500 tax credit to employers to implement a repayment match program with a minimum qualifying match contribution of $2,000 per year by employees. Repayment assistance would be considered income and thereby subject to income tax. The bill defines a "qualified student loan repayer" as a borrower with at least an associate's degree and outstanding debt of at least $10,000.

529 and ABLE Account Improvement Act
HR 529
Sponsor:
Rep. Jenkins (R-KS-2)
Co-Sponsors:
1 (0 R; 1 D)
Introduced:
1/13/2017
NASFAA Analysis & Coverage: The bill proposes tax code changes related to 529 and ABLE plans. Among the changes are tax incentives for employers to contribute to 529 and ABLE accounts and removing penalties for using 529 funds to pay student loans.

Student Loan Opportunity Act
HR 480
Sponsor:
Rep. Flores (R-TX-17)
Co-Sponsors:
0 (0 R; 0 D)
Introduced:
1/12/2017
NASFAA Analysis & Coverage: This bill would allow qualified scholarship funding corporations to use tax-exempt bonds to finance private student loan programs. Currently, qualified scholarship funding corporations, as defined in IRS Code, are ineligible to issue tax-exempt bonds.