ED Secretary Takes Meeting With NASFAA Leadership
By Erin Powers, Communications Staff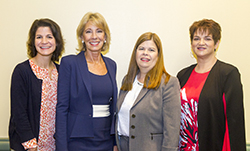 Last week at the Federal Student Aid (FSA) Training Conference, 2017-18 NASFAA National Chair Billie Jo Hamilton, NASFAA Director of Policy Analysis Karen McCarthy, and NASFAA Chief Training Officer Dana Kelly met with Department of Education (ED) Secretary Betsy DeVos and senior ED leadership to discuss student aid generally.
Hamilton expressed appreciation for FSA's responsiveness in recent months and for the attention FSA has paid to the needs of financial aid administrators, as exemplified by a meeting she and other NASFAA Board of Directors members had with Chief Operating Officer A. Wayne Johnson earlier this year and by DeVos taking the time to address attendees at the training conference. Kelly congratulated the secretary on her speech, which focused heavily on the need to bring FSA into the 21st century with tools like the mobile FAFSA app, and reaffirmed just how important it is to NASFAA members to have access to their regional trainers and to get timely guidance from them.
DeVos asked the delegation what she could do to improve the current state of affairs for financial aid administrators.
NASFAA leadership took the opportunity to voice concerns about several pressing issues affecting members. Hamilton noted the importance of maintaining a strong partnership with the Internal Revenue Service (IRS). For many years, the IRS has been working with ED to help simplify the FAFSA filing process for students, but the financial aid community saw firsthand how calamitous it can be when tools parents, families, and administrators have come to rely on go down. The IRS Data Retrieval Tool is an integral resource that allows students and parents applying for financial aid to import tax information directly into their federal financial aid application, Hamilton explained, and the issue that arose earlier this year that caused the tool to go offline for several months due to security concerns had a wide reaching impact on the financial aid community.
McCarthy touched briefly on burdensome regulations, commending DeVos for her attention to taking the undue strain off administrators. In her opening remarks at the conference, DeVos acknowledged that many aspects of the financial aid process may be overly complicated, cumbersome, and confusing. "Please know we are working to reduce the regulatory burden on all of you, so you can focus on your true calling: advising and guiding students," DeVos said in her remarks. McCarthy conveyed NASFAA's willingness to help in efforts to streamline processes for administrators and students.
DeVos was receptive to the feedback and reiterated her commitment to acting in the best interest of students. She applauded the work of aid administrators and stressed her desire to improve the student aid process.
Also present at the meeting were staff members from the National College Access Network (NCAN), who stressed the importance of FAFSA simplification efforts—a key tenet of both NASFAA and NCAN's advocacy platforms, particularly as reauthorization of the HEA grows near.
NASFAA was pleased to have the opportunity to meet the secretary and discuss some pertinent issues, and looks forward to a continued positive working relationship with FSA leadership and staff.
Publication Date: 12/5/2017
---