February State & Regional Association Updates
In this monthly round-up in Today's News, we would like to highlight what is going on in your state and regional financial aid administrator associations.
This month, we have the opportunity to hear from our colleagues in Illinois, Wisconsin, North Carolina, Virginia, Florida, and SASFAA.
Elyse Weller, president-elect of ILASFAA, shares that the association's 2023 conference will be held from March 13-15. Registration is open, Elyse encourages members to come and mingle with fellow financial aid professionals. The ILASFAA 2023 Leadership Retreat Application is also now available on the ILASFAA website. This retreat represents an exceptional professional development opportunity for those seeking advancement and leadership training in the financial aid profession.
Mandy Slowinski, president-elect of WASFAA (Wisconsin), shares that the association's Professional Development committee hosted its first free winter mini training session on March 3 at the Milwaukee School of Engineering (MSOE). Participants were able to earn the NASFAA Professional Credential on the Application Process and discuss other important financial aid topics. This is the first of the mini sessions planned for this year around Wisconsin.
Michelle Hemmer, president of NCASFAA (North Carolina), shares that the association hosted its second Director Summit February 28-March 1 at Cape Fear Community College, along with its Intermediate Aid Training. Michelle says the association is excited to have had financial aid directors and intermediate aid officers join together for training and fellowship.
Joseph Dobrota, president of VASFAA (Virginia), shares that the association will be hosting a Professional Judgment webinar in March, leading up to the May 1 deposit deadlines at many schools. VASFAA is also looking forward to celebrating its 55th anniversary at its annual conference May 7-10 at the Renaissance Portsmouth-Norfolk hotel. The conference theme is "Riding Together." VASFAA is excited to support its conference charity, Richmond Cycling Corps, which is using cycling as a way to help break the barriers caused by cyclical poverty in Richmond, Virginia.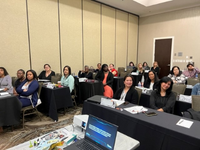 Nadine Bailey, president of FASFAA (Florida), shares that the association in early February hosted an Avenger Academy for new and intermediate aid administrators with five years or less experience in financial aid. A total of 53 attendees participated in the academy and covered a wide range of topics, including campus-based programs, financial aid jeopardy, student eligibility and school-determined requirements, professional judgment and dependency override, developing the cost of attendance, satisfactory academic progress, verification, and more.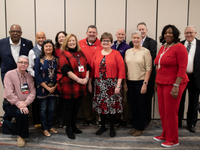 Michael Morgan, 2022-23 president of SASFAA, shares that the association celebrated its diamond anniversary in Chattanooga, Tennessee in mid-February at its annual conference. Participants were reminded of the importance of ensuring the well-being of their mental, physical, and emotional health. The past presidents of the association were honored, recognizing their guidance throughout the 60 years of SASFAA's existence. Stephanie Miller and the conference committee provided an agenda with sessions for all levels of knowledge. Each day, SASFAA held sessions aimed to assist directors, gain knowledge, network and learn from and with colleagues, and promote wellness. In addition, SASFAA hosted the first ever NASFAA Certified Financial Aid Administrator Program training for the FAAC® designation. Arva Thomas, from the Department of Education joined SASFAA for several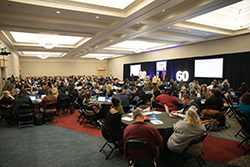 concurrent sessions, as well as a Federal Update on the final day of the conference. SASFAA was also joined by NASFAA's Justin Draeger and Dana Kelly, who provided the latest updates from Washington, and insight on what to expect over the next year with FAFSA simplification. SASFAA's own Brad Barnett, NASFAA National Chair, provided the NASFAA Update and shared his journey, reminding us we have the opportunity to alter
the trajectory of someone's life.
Check back next month to see what your colleagues are doing across the country, and check out your colleagues' updates from previous months!
Publication Date: 3/6/2023
---