January State & Regional Association Updates
In this monthly round-up in Today's News, we would like to highlight what is going on in your state and regional financial aid administrator associations.
This month, we have the opportunity to hear from our colleagues in North Dakota, Texas, Missouri, New York, California, and Arizona.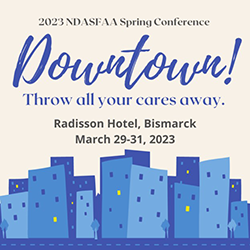 Judith Hager, NDASFAA (North Dakota) past president, shares that the association's annual conference — with the theme "downtown" — is scheduled for March 29-31 in Bismarck at the Radisson Hotel & Conference Center. There will be a performance of a revised rendition of Petula Clark's song "Downtown," with lyrics appropriate to the world of financial aid!
Dede Gonzales, TASFAA (Texas) president, shares that the association will host its free Regional Training workshops during the months of February and March in various locations throughout Texas. The training will provide a NASFAA credentialing opportunity on the topic of Student Eligibility. TASFAA members can find more information on the TASFAA website under Events/Regional Training.
Tony Lubbers, MASFAP (Missouri) president, shares that the new Board's first meeting and retreat occurred in late January. Several MASFAP members will also be attending the Leadership & Legislative Conference & Expo in February, which he says is always a great experience. MASFAP is excited to see what the new year brings!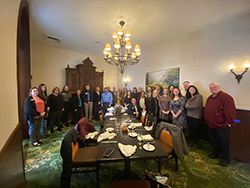 Patti Donahue, NYSFAA president, shares that Region 5 had its holiday meeting at the Culinary Institute of America (CIA) on January 11. Patti welcomed the group, while Lisa Simpson, director of colleges and university relations at New York's Higher Education Services Corporation provided an update on processing new information. Lou Murray, senior account executive for campus partnerships at Earnest, gave an informative presentation on mental health challenges and strategies in the workplace, entitled, "When Your Business Impacts Your Business." After the meeting, the group enjoyed a meal together at one of the restaurants on campus.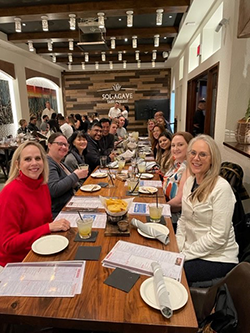 Christina Tangalakis, CASFAA president, shares that the CASFAA training committee recently launched its annual Tax Training series for the 2023-24 aid year. The day-long training is a comprehensive overview of the tax issues that financial aid administrators need to understand to process applications for Title IV aid. The CASFAA Executive Council held its first in-person meeting of the year in Los Angeles on January 13-15, 2023. Among many agenda items, the Executive Council reviewed the findings of a recent survey focused on improving the volunteer experience as part of its recently completed long-term strategic plan, and set in motion plans for its annual Day at the Capitol advocacy event scheduled for April 21, 2023. Executive Council members did take a break from association work to share fellowship over a delicious Mexican Dinner on January 13, 2023 and an NHL Hockey Game, the New Jersey Devils versus the L.A. Kings at Crypto Stadium.
Kelly O'Brien, AASFAA (Arizona) president, shared that the association's upcoming annual conference will be held in Laveen, Arizona at the Vee Quiva Resort and Casino on May 17-18. AASFAA will be celebrating its 55th anniversary and the theme this year will be 55 Years of Connection. "As professionals and an association, we have many changes and challenges on the horizon," Kelly writes. "We are stronger when we work together, share our perspectives and experiences, and help one another. This is why we put into place Ask AASFAA." Once a month AASFAA members can meet to discuss a variety of topics – from CARES reporting, to updated regulations, to FAFSA simplification. The topics are open and decided upon by the folks who attend. Many of the presenters who will be at our conference were chosen based on the topics that came up in these sessions.
Check back next month to see what your colleagues are doing across the country, and check out your colleagues' updates from previous months!
Publication Date: 2/6/2023
---