MVP Gena Boling, FAAC®
By Maria Carrasco, NASFAA Staff Reporter

MVP: Most Valuable Professional is an occasional series that features a brief Q&A with a different NASFAA member. Do you know a financial aid colleague with something interesting to say? Send the names of potential future MVPs and a short note about why you're nominating them to [email protected].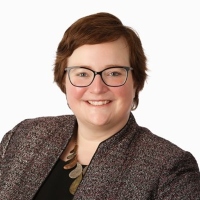 Gena Boling
Associate Vice Provost for Enrollment
Cornell University
Meet Gena Boling. Gena got her start in higher education in 2003, first working in student affairs where she focused on student conduct, student government, and Greek life. From there, Gena moved to residence life before eventually transitioning to financial aid where she "restarted" her career.
"After several years in residence life, I knew that I wanted to continue working with students and working toward improving areas of higher education administration, but I didn't want to continue to respond to fire alarms at 3:00 a.m.," she said. "So I started looking at other areas of higher education and I found my way into financial aid at that point."
Gena is currently the associate vice provost for enrollment at Cornell University, where she previously served as director for the Office of Enrollment Compliance and Design. Before that, she worked in the financial aid offices at the University of Missouri and Missouri University of Science and Technology.
Gena is the incoming chair for NASFAA's Conference Program Task Force. Additionally, she has served as a NASFAA U adjunct instructor and a member of the Leadership & Legislative Conference & Expo Planning Task Force.
At the regional level, Gena serves as the chair for the Federal Relations Committee at Eastern Association of Student Financial Aid Administrators (EASFAA). Previously, she served in multiple roles at the Midwest Association of Student Financial Aid Administrators (MASFAA) and the Missouri Association of Student Financial Aid Personnel (MASFAP).
Learn more about Gena, her interests, and her career path in the Q&A below!
How did you get your start in financial aid?
I restarted my career when I moved into financial aid and I started as a front desk staff working in a very small shop. It was the best career move I could have made. I think there's something to be said for an office of three or four people when you have no choice but to learn a little bit about everything. And I found the regulatory landscape within the whole enrollment function to be fascinating. So I progressed from being a front desk staff to managing teams and systems at institutions with enrollments ranging from about 500 students to 25,000 students. And then just a couple of weeks ago, I was promoted to the role of associate vice provost for enrollment at Cornell.
What do you find the most rewarding and fulfilling about your work?
I think the obvious answer for most of us will probably be knowing that we're doing our small part to open doors and assist with access to opportunities for the students and families we serve. That's what keeps me going every day and it's why I chose higher education early in my career. But in addition to that, I also really love being able to support staff in their career development, whether that's helping staff to have access to learn a new skill that assists with conversations they may have with students, families, or colleagues, or helping staff to connect with other aid administrators from across the country so we can collaborate or commiserate. I'm very thankful for all the opportunities I've been given and I'd like to pay that forward by bringing folks along with me.
If you could change one thing about financial aid, what would it be?
I would eliminate the R2T4 process entirely, and rely on annual and lifetime limits and Satisfactory Academic Progress to manage expectations for students struggling to complete.
What's something you wish all higher ed folks knew about financial aid?
I wish that higher ed folks really understood the breadth of skills that financial aid administrators have. Aid administrators need to have strong technical skills so we can accurately calculate and distribute aid offers. But we also have to be able to strategize in a really complex regulatory landscape by making financial projections which will have a significant impact on our institutions. In addition to that, we need to be able to navigate conversations with students, families, faculty, and other staff with understanding and compassion, managing expectations related to what we're allowed to do, and what we might want to do to assist our students. I think a lot of times financial aid administrators don't get enough credit for the holistic range of skills that it takes to do quality work. And those skills are transferable and useful throughout numerous areas of the institution.
Tell us about your institution. What are some unique aspects of Cornell University?
Cornell University is a privately endowed Ivy League research institution, but we're the federal land-grant institution for New York, so we have a public mission to prioritize public engagement. Our institution's founding principle set by Ezra Cornell is "I would found an institution where any person can find instruction in any study" — and we take that principle very seriously. Staff worked tirelessly in the financial aid office to meet 100% need for our students, and to reduce as many financial barriers as possible so that any person can truly find instruction in any study. I think we're pretty unique in that we administer programs for privately endowed colleges, but also for our public colleges, which are contracted to Cornell from the state of New York. So that means at any given time, we're operating in three aid years managing tuition and aid for students attending one institution, but we're navigating lanes of private tuition and in-state and out-of-state tuition all at the same time.
Do you have any advice for people just getting started in the field?
I think back to the keynote speaker at the 2022 NASFAA National Conference, David Epstein. He shared research conducted on elite athletes, finding that those with a wide range of interests and skills are often the most successful in their fields. I think the same is true for higher education. So I would urge new people to the field to explore higher education and seek a broad understanding of not just the specific area to which you're assigned, but seeking out the context of the work of our colleagues across the institution, understanding what teams are trying to accomplish, and understanding the purpose of student activities. Each area you uncover and learn more about will help you in holistic decision-making and in identifying the broad impacts of the decisions you make and the actions you take.
Anything you've learned in the last year, or a new hobby you've picked up?
I really started focusing on my physical health and well-being in 2022. I realized I should have done that a long time ago, but I'm showing up now. So in 2022, I started spinning, doing strength training, and have started practicing yoga. I've really enjoyed the benefits of feeling stronger, both physically and mentally. There's something about pushing yourself through a really high intensity workout, or holding a pose for an extended period of time, that feels really powerful. So I'm really enjoying that. I'm currently trying to figure out how to maintain those habits during periods of work, travel, and holidays.
What is a goal you've set for yourself for the upcoming year?
My team and I recently participated in a retreat and we identified work we wish we were doing more of and items we think are inefficient with a low return on investment. It's my goal this year to level set those items and to eliminate unnecessary steps to make room for increasing efficient work.
What's something you couldn't function without?
My partners and individual offices throughout campus — our financial aid and student employment office, our registrar's office, our admissions office, and partners across campus. Our offices are filled with dedicated, smart individuals who I'm really fortunate to partner with on a daily basis. We could not do our work alone and would be far less effective if we weren't able to collaborate on moving the needle on initiatives within the division of enrollment.
What's one thing you are looking forward to the most in the upcoming year?
I'm looking forward to seeing all of the individuals, who make up those various teams that I just mentioned, work collaboratively to tackle some really big challenges — FAFSA simplification, cost of attendance, and so on. As an industry in general we have our work cut out for us, but we're up for the challenge. The fun part for me will be seeing all the staff come alive during brainstorming and idea-forming sessions, and then seeing those ideas move to reality.
Want to say hello to Gena or reply to something she said? Please leave your remarks in the comments section below. You can also take a look back at our past MVPs to read any you missed the first time around.
----
Do you know a financial aid colleague with something interesting to say? Send the names of potential future MVPs and a short note about why you're nominating them to [email protected].
Publication Date: 11/30/2022
---